Utilicor stocks parts for all our coring equipment.
If you can't find the exact piece you need here, or in our parts catalogue, just give a call or email us by clicking here
Utilicor Core Puller Tool
For safe core extraction and proper core reinstatement process.
2-1/4″ expension plug for use with carbide center bit, or 2-3/8″ expansion plug for use with roller cone or PDC center bit. Please specify.
Top mounted eyelet for insertion of lifting bar. High tensile threaded rod for durability.
Part # AC-PULLER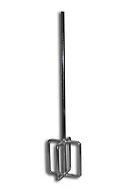 Four bar mixing blade for proper Utilibond mix·
Fits 1/2" drill chuck·
Part # AC-MIX
Complete Pillow Block / Water Swivel Assembly
Allows water to be channeled to center pilot cutter and coring drum. Hydraulic motor mounts to top. 1 1/4 x 7 T.P.I spindle shaft. Specify shim size in accordance to type of hydraulic motor (.350 or .420)
Part # PB-COMP
Replacement water seals for pillow block Leather. Sold as each / two required for rebuild.
Replace when water is not being trapped and directed to the coring assembly.
Part # PB-WS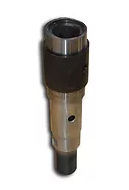 Pillow Block Spindle Shaft
Replacement shaft for Pillow block / water swivel
Sizes available:
1 1/4″ x 7 T.P.I. (Stock Utilicor Size)
1 7/8″ x 7 T.P.I.
Part # PB-SS
Pillow Block Tapered Bearings
Replacement bearings for pillow block. Two required for rebuild. Sold as each.
Part # PB-TB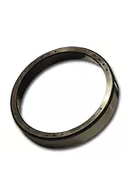 Replacement bearings for pillow block. Two required for rebuild. Sold as each.
Part # PB-TB
Includes all parts required to rebuild pillow block.
1 x shaft, 2 x tapper bearings, 2 x tapered race, 2 x water seals
Part # PB-REBUILD
12 volt Water Pump - Low Pressure
Self priming with run dry capacity. available in either 1.8 G.P.M. or 3.0 G.M.P.
Part # TR-FLOW
Banjo style. 50 micron. Washable filter.
Part # TR-FILTER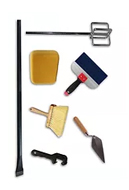 Complete set of tools for core reinstatement process. Includes 5′ lift bar, two flat trowels, one small pointed trowel, sponge, wash brush, pail opener and Utilibond mixing blade. (Drill not included)
Part # AC-SET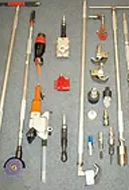 Utilicor works closely with keyhole tool manufactures, and in some cases can supply tools directly.
Keyhole process applications can be found at the Gas Technology Keyhole Consortium web site.
Click the email button to request more Keyhole Tooling information.