Coring Drums and Center Pilot Assembly
Utilicor utilizes a center pilot hole during the coring process which is essential for proper keyhole core cutting and core reinstatement procedures.
The pilot hole, which is cut simultaneously during the coring process, simplifies cores extraction, is a quicker and easier operation for the worker, and allows for the core to be properly manipulated during the reinstatement process.
The Utilicor core puller tool has a rubber stopper which expands and becomes friction tight within the pilot hole.
Utilicor's process of cutting a center pilot hole and utilizing a core puller tool is the only work-safe method for extracting heavy cores cut from the roadway. It is also the only work-safe method to allow for a proper core reinstatement.
A-Flange Drive Adaptor bolts down
to top of coring drum
Coring drum with procore diamond segments. Standard sizes are 12, 18 and 24 in diameter and 22 in overall lenght.

Central Pilot Shaft allows for connection of a center cutter, which cuts the center pilot hole during the coring process

Three different styles of center cutter bits are available depending on pavement composition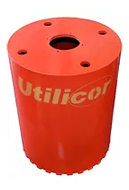 ProCor Professional Grade Coring Drums
Custom manufactured diamond segments allow for increased cutting life through both asphalt and concrete. Stock barrel length is 22". Available stock diameters are 12",18" and 24".
Asphalt & Concrete Part # CD-12, CD-18, CD-24
Allows for use of center pilot bit during coring process. Stock size is 19″ (1/2″ spacers included) 17″, 16″ and 15″ lengths availble for shortened core drums. Zinc coated.
Part # CP-SHAFT18, CP-SHAFT16, CP-SHAFT14
Accommodates Utilicor's ProCor coring drums, and allows for the installation of a pilot shaft. Top ported for water distribution inside the core drum.
1 1/4" x 7 T.P. I. threads / zinc coated.
Part # CP-AFLNG
Simultaneously cuts center hole when cutting the core. PDC bit (polycrystalline diamond compact) with AW-ROD threads. Recommended for tough concrete applications. Superior penetration rates.
Part # CP-PDC