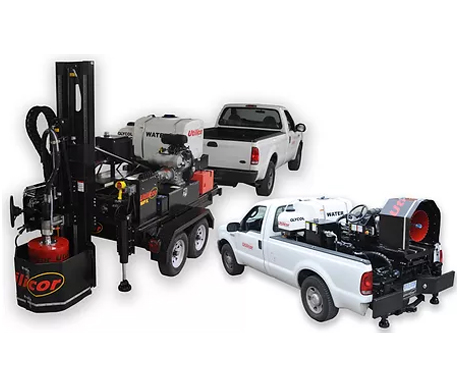 MPX-SS Coring Unit
The MPX-SS–Multi Platform Coring Unit–is Utilicor's most flexible coring equipment. As its name suggests, it easily mounts on a variety of platforms: pickup trucks, flat deck trucks, service bodies or trailers.
Built on a universal base that fits within the width of even the narrowest of pickup trucks, the MPX is a truly revolutionary design. A simple bolt-down pattern allows for a variety of installations, and can be easily swapped between vehicles, or even removed and stored off the truck or trailer when not required. The new, dual-stage mast deployment system accommodates a variety of deck or trailer heights.
The MPX-SS with Side Shift technology allows for positioning of the coring mast up to 20 inches side-to-side all without repositioning of the truck or trailer.
Understructure: Steel tubing, running the full deck length with six bolt down assemblies for installation onto truck or trailer.
Coring and Manipulator Assembly: Dual stage mast deployment system accommodates a variety of deck levels or trailer heights. Up to 24″ diameter wet drilling core bit capacity with linear glide system and proportional orbital hydraulic drum feed system.
Side Shift Feature: The side-shift positioning system allows the core drill to be shifted side-to-side 20-inches across the width of the MPX-SS Coring Unit. Hydraulically actuated.
Water system: 100 USG plastic water tank. Electric water pump, 3 G.P.M. @ 30 P.S.I. and includes 1/2" diameter water hose running to gland assembly on cutter drive shaft for cooling of cutter head and auxiliary hose for cleaning and cooling outside of cutter.
Stabilizers: Two rear mounted hydraulic stabilizers.
Hydraulic System: 26.5 H.P. gas engine creates over 18 GPM of hydraulic flow at 2200 PSI. Hydraulic gear pump, hydraulic cooling system complete with 15 gallon hydraulic reservoir. Includes suction and return lines, sight glass, temperature gauge, fill port, drain port and oil filter, with proportionate hydraulic valves
Control System: Plug in remote pendant control with 15ft cable extension for operation of manipulator/cutter assembly and stabilizers, with boom mounted control panel, emergency shutdown switch and digital coring drum R.P.M. read out. Cold weather start up system. Dash mounted ignition key and throttle controlled from the rear of the unit.
Paint: Sand blasted, powder coated primer and powder coated finish coat. (50% gloss black).
RearBumper (optional):Truck mount only Integrated wrap around checker plate bumper with licence plate mount and light.
Storage (optional): Trailer mount only: Two side-mounted locking storage boxes | (36"W x 20"D x 10"H)
Core Hoist (optional): 500 lb capacity core hoist. (12V)
Winterizing System (optional): Glycol wintering system for operation in colder climates.
High Pressure Wash System (optional): Hydraulically driven high-pressure water pump, 5.5 G.P.M. @ 1500 P.S.I. with 15 ft of 3/8" hose and high-pressure handgun
Basic Coring Package (extra): 12", 18″ or 24" diameter ProCor diamond segment coring drum with "A" flange drive adapter, steel pilot shaft, pilot bit, pavement protection impact plate, standard core-puller, and Utilibond mixing paddle.
Utilicor Trailer Specifications (Optional):
NATM certified
Weight: 1200 lbs.
Axles: 2 x 3500 lbs.
Paint: black epoxy.
Wiring: sealed harness.
Connector: 7 pin commercial.
Electric brakes (both axles).
Axle type: spring with double eye overslung.
Tandem axle trailer with 5500 lbs. capacity.
Safety chains: 5/16" gold chains and hooks.
Breakaway switch with battery kit· Adjustable Pintle.
Dimensions: 98"L x 72"W (trailer bed) Overall length: 149
Coring Unit Weight:
Weight (water tank empty): 3400 lbs.
Weight (water tank full): 4234 lbs
Accommodates Deck Heights:
26" up to 40" (specify deck height on order)
Available Coring Unit Options:
Winterizing System
Diesel Engine / Upgrade
Bumper for pick up truck
Storage boxes for trailer
High pressure wash system
Core Hoist (500 lbs. capacity)
Stabilizer "deployed" warning system For pick up truck
Required Tow Vehicle:
Trailer light hook up
Trailer brake with adjustable gain
2" receiver or greater with 5000 lbs. capacity
Capacities:
Water Tank: 100 Gallons
Drum Speed: 0 – 280 RPM
Coring Drum Depth: up to 22"
Coring Drum Diameter: up to 24"
Side Shift Capacity – 10" either side of center
Recommended Vehicle Specifications:
8 foot truck bed (min.)
GVRW 9900 lbs. or greater
Pick up truck or flat bed truck